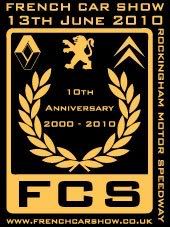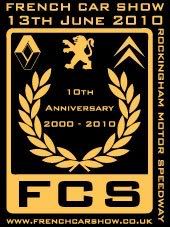 French Car Show 2010 Ticket Information
This years show is being held at

Rockingham Motor Speedway
Mitchell Road
Corby
Northamptonshire
NN17 5AF

which is being held on Sunday the 13th June 2010

This year we have our own dedicated stand in a prominent area within the car club area. The layout of the show is to be the same as last year. Whilst the rally didn't affect us with covering the cars in dust, FCS have taken note of the problems and there is to be NO rally this year.


Tickets booked before the event are £12.95 per person, this includes a car stand pass. Children under 14 are free this year.

This price will guarantee you a pitch on the meganesport stand. We have again a prime location and the Meganesport team have worked hard, with the organisers to arrange this slot for us.
Click on the Add to Cart Button and it will open up a second page, with what you have clicked for. If you want track time, just go back to the first page and change the option to the track time. Click on the Add to cart button again and it will update your cart.

The P&P charge includes the P&P of the tickets and also any charges. Depending on the spend, will depend on the total. All tickets will be posted first class recorded upto two weeks before the event.


I am also taking orders for our Dedicated Track Time.



I have booked our club a dedicated 30 Minute slot. FCS are selling these for £39.98, but for MeganeSport, we're subsidising it and selling it for £34.99, which is the same price as last year. There are 37 spaces which will be sold on a first come, first served basis.

By Dedicated I mean it is only our club going to be on the circuit for the full 30 minutes. This means there will not be any chavs on the circuit in their saxo's racing around like idiots, with the threat of them smashing into you car. !!

As with last year, Ii will be arranging hospitality for those that want it. Im looking along similar lines as last year, with bacon rolls and drinks. This is £2 per person and will be available throughout the day. You normally pay that for a can of coke at an event like this !

Meguiars Special Offer
I have teamed up with Meguiars and am able to offer this box set for £9.00 each only at FCS. The kit includes:-


Soft Wash Gel - 473ml.
Super thick, super safe formula brightens paint appearance. Meguiars Soft Wash Gel combines agents with optical brighteners to gently wash away dirt, grime, bird droppings, and more while enhancing the brilliance and gloss of your paint finish. The PH balanced formula is guaranteed safe, even with frequent washings, and it won't strip off wax protection.

Cleaner Wax - 473ml.
Meguiars most versatile, one step wax specially formulated to produce eye dazzling results. Rich conditioning oils and legendary gentle cleaning ability make it an excellent choice for daily drivers exposed to the elements.

Soft Foam Applicator Pad - x1.
Meguiars Soft Foam Applicator Pad uses a tight cell, ultra soft foam for smooth application on all surfaces including leather, vinyl, and rubber.

Wash Sponge - x1.
Super durable foam resists tearing and shredding while holding an amazing amount of wash solution for easy cleaning and clear coat safe, swirl free results.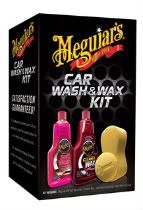 All of these items separate cost over £18.97 !! Making a minimum saving of £9.97.